Grimme / Uckermark - Kunsthof Barna von Sartory - www.kunsthofbarnavonsartory.de
---
beginnt am Montag 24.7. abends (Anreisetag) und geht bis Samstag 29.7. mittags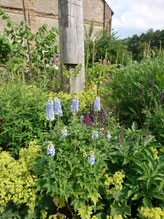 Beginn   24.7.   |  19 Uhr  –
Ende      29.7.   |  14 Uhr  (offener Vormittag mit Präsentationen)
Kosten              | 250/300/350€ nach Selbsteinschätzung
Der Aspekt des Rituellen in der Lebenssicht des Jalan-Jalan / Walking-Walking / Schlendern in Muße ist eine der frühen Übungen, die Prapto*1 angeleitet hat.
Die Inspiration des Umbuld Donga kann als eigensinniges, ganzkörperliches und vielstimmig-kreatives Gebet oder Ritual im gemeinsamen Raum gesehen werden; eine Feier in Vielfalt.
Im Jalan-Jalan und in Umbul Donga bilden Sein und Tun, Ansprache und Resonanz, Besonderes und Alltägliches ein schöpferisches Miteinander…. Wir nutzen diese indonesischen Begriffe, weil wir deren Athmosphäre miteinbeziehen wollen und gleichzeitig sind wir neugierig auf alle Formen und Qualitäten, die darin Raum greifen werden.
Auch das Verringern von Identifizierungen durch die Praxis von Bewegungskunst als ein Anliegen in Praptos Joged Amerta, sowie die Anerkennung eigener und globaler Verletzlichkeit,  die uns in dieser Zeit besonders am Herzen liegt, werden in Jalan-Jalan und durch Umbul Donga berührt.
Kinder der teilnehmenden Erwachsenen sind herzlich eingeladen auf Ihre je eigene Art bei dem Workshop dabei zu sein und mitzuwirken, zu schlendern, zu rennen und zu tanzen…
Am Samstag den 29.7. gibt es am Vormittag wieder eine offene Zeit mit Präsentationen aus dem Workshop und solchen von Gästen. Auch Mitbewegen für Besucher ist wie immer vorgesehen.
Bettina Mainz und Michael Dick, bieten dieses Amerta Movement Seminar gemeinsam an. In der großen, schönen Scheune werden wir uns bewegen und möchten auch viel draußen sein. Der Vierseithof bietet Schutz und auch etwas Wildheit drum herum.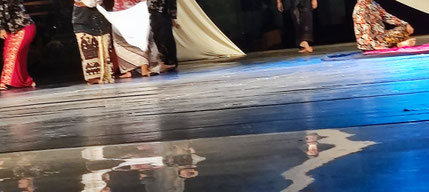 O

pen Space MAM – Movement Arts Meeting
Beginn | Sonntag 30.07. morgens 10:00  - Mittwoch 02.08. abends Kosten | 1 Tag - 50 | 2 Tage – 90 | 3 Tage – 120 | 4Tage 140€
4 ganze Tage Bewegen, Austausch, Muße, Performance, Ritual, Stimme   
Donnerstag 3.8. ist dann der Abreisetag.
Der offene Vormittag am Samstag mit der Möglichkeit kleine Rituale/Performances zu teilen, ist zugleich auch Auftakt zu dem Open Space Format in MAM (Movement Arts Meeting). 
Viele von euch kennen dieses Format schon. Ihr seid eingeladen Eure Ansätze, Fragen und Sharings  mitzubringen und zu teilen und/oder einfach nur an dem Austausch teilzuhaben.
Auch  Performances  können im Laufe des MAM ausprobiert werden. Das Treffen dient zum einen als Plattform für alle Amerta Praktizierenden, aber auch Neugierige und Bewegende aus allen Richtungen sind herzlich eingeladen. In diesem Jahr möchten wir die alte MAM Tradition wieder aufnehmen und zwei bis drei Lehrer einladen, die ihren Ansatz teilen.
Kinder der Teilnehmenden sind hier herzlich eingeladen dabei zu sein.
Facilitator: Monika Förster und Schule der Bewegung 
Verkehrsverbindung und Anreise
Grimme/Brüssow  ist ein kleines Örtchen in der Uckermark nahe Mecklenburg/Vorpommern. Die nächsten  größeren Städte sind Prenzlau oder Pasewalk. Es gibt einige gute Zug/Busverbindungen von Berlin nach
Grimme. Dauer knapp 2.30 z.B. um 13.48 Uhr von Berlin Gesundbrunnen, ankommen Grimme 16.02 Uhr .                       
Für diejenigen, die von weiter her kommen, ein Flugzeug oder ein Auto nutzen, oder auch so mitmachen wollen, hat Monika Förster  eine Initiative zur CO ² Kompensation ergriffen. (siehe unten)
Unterbringung:
das Gästehaus (für bis zu 12 Personen) mit Küche, 3 Duschen und 2 Toiletten
4 Doppelzimmer (mit je zwei Einzelbetten)   und 2 Personen im Yogaboden mit Matratzenlager 
Apartment in Parterre für 2 Personen (zwei Einzelbetten) mit kleiner Küche, Dusche und Toilette (alle Zimmer kosten für 1 Person 30€ / für 2 Personen 45€ pro Nacht +10€ für Bettwäsche pro Bett) zusätzlich:
3x Einzelzimmer, jeweils mit Küche und Bad (45€ pro Nacht +10€ für Bettwäsche)
1 Doppelzimmer mit französischem Bett im ehemaligen Pferdestall (1 Pers. 45€ / 2 Pers. 50€ pro Nacht +
10€ Bettwäsche)  
4 bis 5 Zelte (10€ pro Person, pro Nacht)
In der Scheune bewegen wir uns; dort (oder im Haus) sind auch Duschen und Toiletten für diejenigen, die in Zelten und im ehemaligen Pferdestall schlafen. In der Scheune gibt es auch eine voll eingerichtete Küche. 
Die Bettwäsche kann natürlich auch selbst mitgebracht werden.
Kosten für Verpflegung - wir werden selbst kochen; geschätzt ca. 15€ pro Tag pro Person
Für Zimmerbuchungen wendet Euch bitte an: michael.dick@netcologne.de 
bitte teilt uns zwei verschiedene Übernachtungsmöglichkeiten sowie den An- und Abreisetag mit;  So können wir etwas flexibler mit euren Wünschen umgehen. Danke
Für weitere Info und Anmeldung auch: info@schule-der-bewegung.net,

tina_mainz@web.de          tel.+49(0)1737888789

                              
Die Rücktrittsregel und und Kontodaten findet ihr unter Anmeldung und Registration auf dieser Webseite

Für Fragen zur C0² Kompensation: monikaforster@dds.                                                            … Es gibt eine wunderbare Methode der Wiederaufforstung, die von Tony Rinaudo (und anderen) entwickelt wurde: FMNR (farmer managed natural regeneration). Es ist sehr effektiv, es ist ein Low-Tech-Ansatz und arbeitet mit den Bauern zusammen, die sich um das Land kümmern. Eine schöne Dokumentation finden Sie von Volker
Schlöndorff . Trailer: https://youtu.be/ltyAaebpyTg. Für kurze Infos empfehle ich "Der Niger, zu dem ich kam"
https://youtu.be/afjVaehQRxg )                                                                                                   
Weil unser schöner Planet so sehr leidet, möchte ich Sie einladen, sich an einem Reisekompensationssystem zu beteiligen, um die Auswirkungen unseres Reisens auf die Umwelt zu reduzieren. ..
Zecken:
Zecken verbreiten sich durch die wärmer werdenden Winter schnell. Das Gebiet ist kein ausgewiesenes FSME Gebiet, aber wer sich impfen lassen möchte sollte damit rechtzeitig beginnen.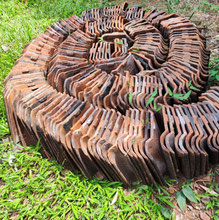 Jalan-Jalan/Walking-Walking
dan/and
Umbul Donga
Stroll in leisure and celebration of diversity (with heaven and earth)
starts on Monday 24.7. evening (arrival day) and goes until Saturday 29.7. noon
Start 24.7. 2023 | 7 pm                                                                                                 End  29.7. 2023 | 2 pm (open morning with presentations)                                         Costs        | 250/300/350€ according to self-assessment                                  
Bettina Mainz and Michael Dick offer this Amerta Movement Seminar together. We will move around in the big, beautiful barn and also want to be outside a lot. The four-sided farm offers shelter and also some wildness around it.
The aspect of ritual in the life view of Jalan-Jalan / walking-walking / strolling at leisure is one of the early practices that Prapto*1 guided.
The inspiration of Umbuld Donga can be seen as a wayward, whole-body and multi-voiced creative prayer or ritual in shared space; a celebration in diversity.
In the Jalan-Jalan and Umbul Donga, being and doing, address and resonance, special and dayly form a creative togetherness.... We use these Indonesian terms because we want to include their atmosphere and at the same time we are curious about all the forms and qualities that will take space in them.
Also to lessen the sense of identifications through the practice of movement art as a concern in Prapto's Joged Amerta, as well as the recognition of own and global vulnerability, which is especially close to our hearts at this time, will be touched in Jalan-Jalan and through Umbul Donga.
Children of the participating adults are invited to participate in the workshop in their own way, to stroll, run and dance....
On Saturday 29.7. there will be an open time in the morning with presentations from the workshop and from guests. Also moving along for visitors is planned as always.
*1 Prapto is the abbreviation for Suprapto Suryodarmo, the founder of Joged Amerta, as he called his form of Amerta Movement.
Open Space MAM - Movement Arts Meeting
Start| Sunday 30.07. morning - Wednesday 02.08. evening
Costs | 1 day - 50 | 2 days - 90 | 3 days - 120 | 4 days 140€
4 full days of movement, exchange, leisure, performance, ritual, voice
Thursday 3.8. is the day of departure.
The open morning on Saturday with the possibility to share small rituals/performances is also the prelude to the Open Space format in MAM (Movement Arts Meeting).
Many of you already know this format. You are invited to bring and share your approaches, questions and sharings and/or just participate in the exchange.
Performances can also be tried out during the MAM. The meeting serves as a platform for all Amerta practitioners, but also curious and moving people from different approaches are heart fully invited. This year we would also like to take up the old MAM tradition and invite two to three teachers to share their approach for about 2-3 hours.
Again, the children of the participants are invited to join move and be the
Facilitator: Monika Förster and School of Movement
Transport connections and arrival
Grimme/Brüssow is a small village in the Uckermark near Mecklenburg/Vorpommern. The nearest larger towns are Prenzlau or Pasewalk. There are some good train/bus connections from Berlin to Grimme. Duration just under 2.30 e.g. at 13.48 from Berlin Gesundbrunnen, arriving Grimme 16.02 .                       
For those coming from further away, using a plane or a car, Monika Förster has taken an initiative for  CO ² compensation. (see below)
Accommodation:
the guest house (for up to 12 people) with kitchen, 3 showers and 2 toilets
- 4 double rooms (each with two single beds)
and 2 people in the yoga floor with Matraces
- Apartment on the ground floor for 2 people (two beds) with a small kitchen, shower and toilet
(all rooms cost €30 for 1 person / €45 for 2 people per night + €10 for bed linen per bed)
Additionally:
3x single rooms, each with kitchen and bathroom (45€ per night +10€ for bed linen)
1 double room with French bed in the former horse stable (1 pers. €45 / 2 pers. €50 per night + €10 bed linen)
4 to 5 tents (10€ per person, per night)
In the barn we move; there are also showers and toilets for those sleeping in tents and in the former stables. Here is also a fully equipped kitchen.
Of course, you can also bring your own bed linen.
Cost of meals - we will cook ourselves; estimated around €15 per day per person
For room-bookings please contact: michael.dick@netcologne.de                                           please let us know  two different accommodation-options to have a bit of flexibility and the exact arrival and departure days
For more info and registration also contact: info@schule-der-bewegung.net tina_mainz@web.de +49(0)173 7888789        www.schule-der-bewegung.net
For questions about C0² compensation: monikaforster@dds.                                                            ...There is a wonderful method of reforesting developed by Tony Rinaudo (and others).FMNR (farmer managed natural regeneration). It is very effective, it is a low tech approach and cooperates with the farmers who take care of the land. A beautiful documentary you find by Volker Schlöndorff . Trailer: https://youtu.be/ltyAaebpyTg. For short info I suggest "the Niger I came to ". https://youtu.be/afjVaehQRxg )                                                                                                    Because our beautiful planet is suffering so much I would like to invite you to join a travel compensation system to reduce the impact our gathering has on the environment. ...Please contact me. A small fee will be shared amongst those joining.
Ticks:                                                                                                                                              Ticks are spreading rapidly due to the warmer winters. The area is not a designated TBE area, but those who want to get vaccinated should start early. Please take care also due to Borreliose